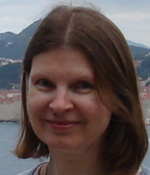 Violeta Gevorgianiene, Lithuania
EC member
Vilnius University. Faculty of Philosophy,
Department of Social Work,
Universiteto str. 9/1
Vilnius, 01513
Lithuania
T
+37061517924
F
+370 5 2667600
E
anamaria@charity.lt
W
http://www.viko.lt
Discipline
Social Sciences
Languages
Lithuanian, English, Russian
Teaching Subjects
Integration and Rehabilitation of People with Disabilities;
Social-cultural Identity and Exclusion;
Social Ecology;
Social work practice in Lithuanian social work institutions (Erasmus program).
Current Activities
Assoc. professor, Social Work Department;
Member of the Experts' Committee at the National Centre for Special Needs education and Psychology;
The expert at the Centre for Quality Assessment in Higher Education (of Lithuania).
Fields of (Scientific) Interest
Integration of people with disabilities;
Community social work;
Social work with ethnic minorities;
Migration;
International Social Work Education.
Current research interests
Entrepreneurial skills of disabled people;
Community social work;
Social work education;
Integration of ethic minorities.